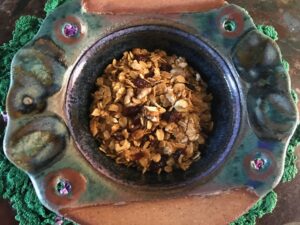 Quick-to-Disappear Granola
This recipe is my version of the granola recipe in Peter D'Adamo's Diet by Blood Type book. I use organic ingredients whenever possible but I don't stress about it (anymore.. 🙂 well, I do, a little bit.. Preheat oven to 350 degrees.
4 cups oats (can be raw, old-fashioned, or rolled, just not instant)
Spread oats on baking sheet with rimmed edge (stainless steel is preferred).
Bake for 10 minutes.
Mix together in bowl:
scant 1/3 cup brown sugar
scant 1/3 cup organic extra-virgin olive oil
scant 1/3 cup honey
1 teaspoon cinnamon
1/2 teaspoon salt
Pour on top of oat-walnut mixture. I toss with two soup spoons until oats are coated.
Put back in oven for 10 more minutes.
Remove from oven.
1 cup walnuts (or nuts of choice; walnuts have Omega-3s)
Break walnuts into pieces. Add to oats.
Add about 1/2 cup each of dried cranberries, pumpkin seeds and coconut flakes.
Easy peasy! I get a lot of love when I make this.. Let cool and store in glass or ceramic container.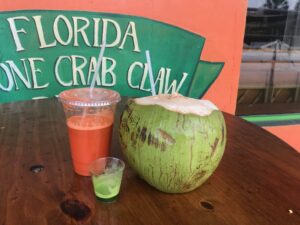 Sometimes, well, quite often lately, delicious meals have come my way, and being an opportunitarian, I enjoyed some fine food. I had a little more fat and sugar than I like to consume, so today is about healthy liquids and and filtered water, lighter meals, no dairy or animal protein of any kind..eating light to spare and repair my digestive system? ❤
Healthy liquids shown here at the New River Grove are wheat grass juice, carrot juice with beaucoup ginger and a coconut for its water, all freshly made and the coconut just opened..?
this is my idea of going out drinking!